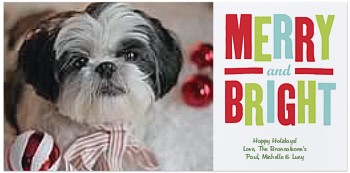 Merry Bright Greeting Holiday

Decided to play around with my camera this weekend and lucky Lucy got to be my test subject. Over the summer, my brother decided he wanted to upgrade his SLR camera and I inherited his Canon Rebel SLR. Still trying to figure out all the settings and working from tricks I picked up at a class in the fall.
I got lucky that Lucy felt like participating in my maddness (or maybe it was the treat I had in my hand. Got quite a few good shots and thought the picture above came out so cute, decided to sent out a photo card for Christmas to our friends and family.
Happy Holiday's everyone!